25jan9:00 am12:00 pmNo Bully® Virtual Solution Coach Training CertificationThree-hour LIVE ONLINE professional development training dedicated to ending bullying in your school
Event Details

Three-hour LIVE ONLINE professional development training dedicated to ending bullying in your school
Become a Solution Coach® Trainer for your school! Sign-up and Register!
This three-hour personal and professional development certification is dedicated to ending bullying in your school, on or off campus.
**IF YOU PARTICIPATED IN A 2019-2020 SCHOOL PARTNERSHIP THAT WAS IMPACTED BY COVID-19, PLEASE EMAIL OUR PROGRAM MANAGER, hannah@nobully.org, TO RECEIVE A SPECIAL OFFER**
We are inviting counselors, social workers, mental health professionals, principals, teachers, superintendents, district, school and out-of-school staff at all levels to learn how to run Solution Teams®, an award-winning intervention. Solution Teams was ranked number one by Ashoka in its global Changemaker competition for activating student empathy to end bullying. We've helped schools across the nation reduce incidents of bullying by as much as 90%.
Who Is It For?
Teachers, school/district staff and out-of-school staff that are passionate about making childhood bully-free:
Teachers
Counselors and school psychologists
Social Workers
Mental Health Professionals
Administration
Principals
Superintendents
Directors of Student Services and Bullying Prevention Specialists
District Staff
Out-of-School-Staff
What You Get
Certification as a Solution Coach Trainer to run Solution Teams® on behalf of students in need.
In-depth training in how to run a Solution Team to end the bullying or harassment of a student who has been targeted.
Meet educators from other schools that are committed to student well-being and engage with a supportive community.
Ongoing support from No Bully over the next year to successfully implement Solution Team at your school.
Training Design
Through a combination of small-group discussions, role-plays and individualized coaching through virtual break-out rooms, participants learn how to:
Lead a team of students through all stages of a Solution Team® to stop the bullying of one of their peers.
Create an implementation plan to run a Solution Team at your school or program so that you catch the students at risk from bullying and get them the help they need.
Outcomes
We've implemented our programs in hundreds of schools around the country using practical and interactive activities resulting in school staff that is highly skilled at detecting, interrupting and ultimately preventing bullying.
Previous training participants expressed receiving the following benefits from the training:
Specific suggestions for interventions
Ways to help students who are being bullied
Knowing the difference between bullying and harassment
An operational approach for building a mutually owned environment of empathy and restoration
How to intervene and de-escalate an issue
How to deal with kids that can be intimidating
How to disrupt bullying
Logistics
The license fee will allow you to run Solution Teams at your school, virtually or on campus.
The program begins at 9:00 AM and ends at 12:00 PM, a Zoom link will be sent out 24 hours prior via email.
All trainer materials will be provided electronically. You will be sent a PDF Solution Coach Handbook that you will be utilzing during the training.
This is an interactive virtual Zoom workshop, please click here to download this free app and test prior to the certification training.
Trainers
Kathy Grey – VP of Education | Kathy has been a community advocate in Marin County for more than fifteen years, working with educators, parents, and children from kindergarten through high school. She is a seasoned conference speaker bringing a unique perspective and passion about our youth, believing firmly that we build a healthy, strong community by empowering the younger generation and ensuring that they are given every opportunity to succeed. Kathy began her career as an educator with Head Start fueling her commitment to serving our youth and communities. Prior to her work in education, she was an arbitrator working in conflict resolution, resolving grievances for United Airlines.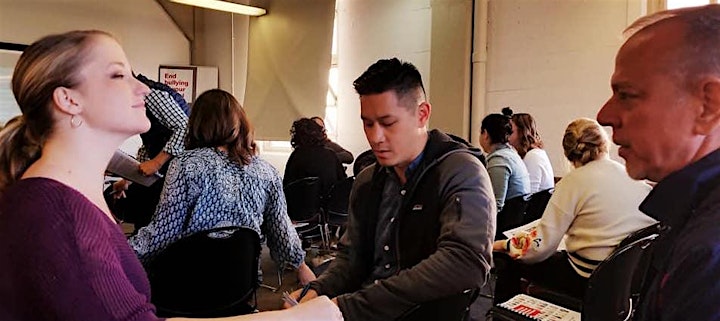 Time

(Monday) 9:00 am - 12:00 pm
Organizer
No BullyProgram Manager, Hannah (hannah@nobully.org)